Suzana Cvetkovic, Psychologists, Eindhoven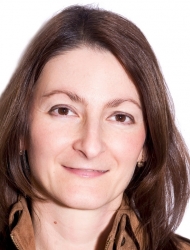 Bekijk mijn website
Cherbourglaan 53
5627 MK
Eindhoven
Bosnian | Croatian | English | Serbian |
---
I came from Serbia when I was 29 years old. I had a university diploma in psychology and I was looking forward to begin a new chapter in my life. It turned out that my diploma here in the Netherlands was assessed on a bachelor level and I still wanted to do my masters. So I did it. And I learned Dutch. And I got married and got children.
I was already doing a volunteer work in my field, but I wanted to transition to a paid job. And then I was trying to figure out how to find my place in this society. At first, everything was so different than I was used to. Then I started getting used to the new ways of looking at life and dealing with different aspects of it. Things I once found strange became usual.

I was trying to integrate the best of both worlds into the person who I was becoming. I noticed that I don't belong anymore to the places and people that I once identified myself with. At the same time I felt that I shall never completely belong here. What an awkward, insecure feeling it was for me not to have that environment where I belong, that would provide me with support if I needed it and where everything is familiar. On the other hand, being in this situation loosened my cultural programming and taught me that all the identity, strength and support that I am looking for, I can find inside myself.
When we encounter some challenging situations in life, our usual ways of dealing with problems are not going to help us restore our inner balance. We need to grow beyond our old limitations and develop psychological flexibility in order to overcome the obstacles, and that is how we as a person transform and grow. Understanding the root cause of the problem and what keeps us stuck is a rewarding process that gives us clarity and opens the doors for the new possibilities. We don't feel lost anymore, as a victim of circumstances that are bigger than us. When we make different choices in dealing with problems, outcomes are also going to be different. That's how we can navigate our way through it.
So whatever problem comes along, be it a relationship problem, stress and burnout, depression, anxiety, loss and mourning, trauma, sleeping problems, negative self-image that we're struggling with for a long time or difficulties with integration into a different culture, we can overcome it if we address it in a different way. And those ways are going to be different for all of us, because we all have different backgrounds, different programming and different preferences. Usually when we're in the middle of a problem, we are so consumed by it that it is very difficult to look at it from a distance that is going to help you think clearly. That is when it can be very helpful to consult someone who has knowledge and experience to guide you through it.
For me the process of change gives meaning to life: you can be a victim or you can change for the better and give a new meaning to your life. There is nothing so empowering than to look back at some challenge from the past and to be able to say: I was able to overcome it and I am satisfied with who I became in the process! And for me as a therapist, it is so exciting to walk that path together with you and help you overcome the obstacles along the way, and so rewarding to see you reach your destination!