Susanna Nijenhuis, Psychologist, Vogelenzang (Haarlem)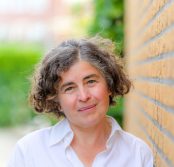 Bekijk mijn website
2e Leijweg 1
2114 BG
Vogelenzang (Haarlem)
Dutch | English | Hungarian |
About me
Life can be challenging at times. I am convinced – because of science and my experience as a psychologist – that psychotherapy can help you heal and grow while facing your challenges.
I have an international background and have lived and worked in Austria, Hungary and since 2005 in the Netherlands. Because of this, I have a keen eye for cultural differences and difficulties within a relationship, at work or regarding the meaning of life. During my 20 years of professional experience I worked partly in health care – as a clinical psychologist and therapist – and partly in international corporations as a consultant and manager. But eventually I followed my heart: I specialized in couples therapy and counselling and started my own psychotherapy practice.
Besides my work, I am also a partner, mother of two children, a devoted dog owner and an avid reader.
Only you can know what your direction in life is, but I can help you see the paths and make your decisions.
Methods
The aim of psychotherapy is change, getting clarity and understanding of your needs and finding the paths to those needs. As a psychologist, I will help you in this process. You are welcome to come alone, but also with your partner.
During our first meeting we will discuss what you are struggling with and what your wishes are. Also, I will tell you about my methods and how psychotherapy can help you or the two of you. For me it is important to build a therapeutic relationship in which we trust each other. So in other words, to create a safe environment where you feel safe to talk about heavy emotions or thoughts and feel understood. That is the foundation and from there we proceed. I use my knowledge of counselling, humanistic and existential psychotherapy and systemic thinking. By doing so, we work together toward the change you desire.