Ángela Caceres, Psycholoog, Utrecht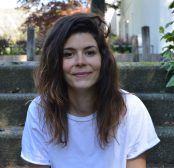 Catharijnesingel 56
3511 GE
Utrecht
Safe together
Both my personal experiences and my professional choices had led me to the same conclusion: sharing our vulnerabilities make us stronger. Our mental health depends on how we have learned to develop healthy affective patterns and on how we create places of safety as surviving mechanisms. So, psychology for me is not just an individual matter and it is also related to the way we choose to bond with others in the context we belong to. My goal, then, is to create together a safe space where we can share our experiences and working hand in hand for finding the balance.
Resilience
I believe in the potential that each of us owns and in the particularity of our identities. During the processes with my clients, we are dedicated to recovering the skills and coping mechanisms to become resilient agents no despite ourselves but embracing who we are.
Awareness
Is that all? Of course no. We will begin by raising awareness of where we are and what we want. Mindfulness for me is a powerful tool that allows us to keep the focus on the present moment to better move to our chosen future.